2017 HOLIDAY GIVING CAMPAIGN
"We all need somebody to lean on…" For Baby Boomers, those seven words can bring back memories of a song that was popular in the early 1970s. And yet, those words are still true today – there are times in life when we all DO need somebody to lean on.
And that's why I am writing to you, one of our faithful supporters, inviting you to make a gift today to our 2017 Holiday Giving Campaign.

Every day, we see people at Cancer Support Community Pasadena who need support … guidance … someone to lean on. Many have received that dreaded diagnosis: cancer. Others are caring for a loved one who is coping with cancer, and some are struggling to face the holiday season without a spouse, a parent, or a dear friend.

Cancer is never an easy journey, but our passion is supporting people who are on that road. That's why we've set a goal for our 2017 Holiday Giving Campaign to raise $45,000, enough to help 60 people for all 365 days of 2018!
Mardi received her diagnosis of cancer in March 2016. After discussing her treatment plan with the doctors, she recalls,
"I wanted so hard for this to succeed that I decided to focus only on treatment. Nothing stopped me from my treatment plan. But one day during radiation therapy, fatigued and trying to hold on to who-knows-what, tears flowed out of nowhere.

I knew I needed help.

"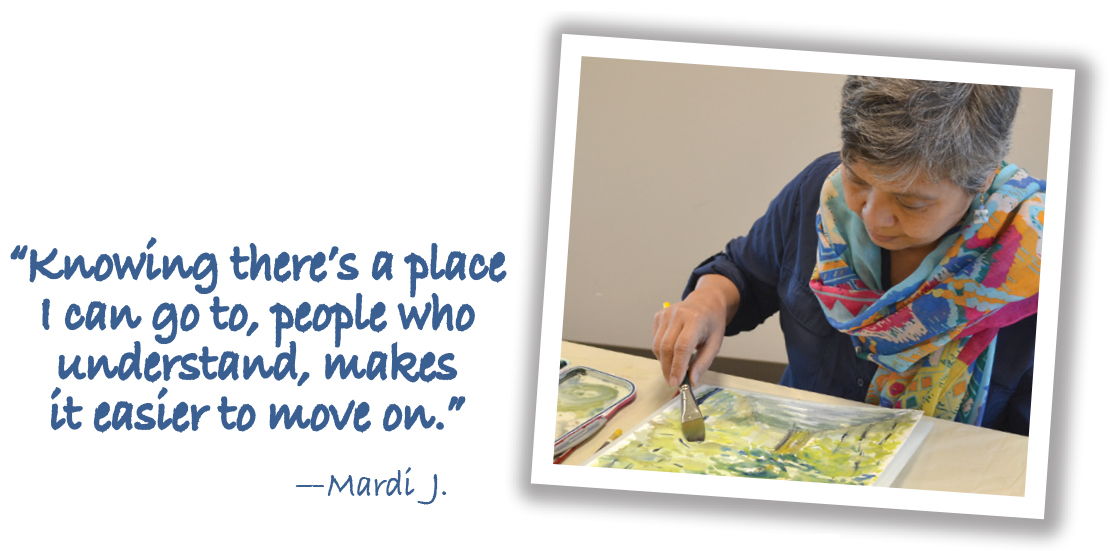 Your gift today to our

2017 Holiday Giving Campaign

is a priceless gift to someone facing their own cancer
or that of a loved one. Please give today – and

you will make 2018 a year of support and hope for others

.
Thank you for giving – and making sure we are always there so someone experiencing cancer can lean on us.
-Meg Symes
Executive Director